Naples In-Home Care with a Sense of Purpose
Navigating the delicate balance between ensuring the wellbeing of elderly family members and managing daily responsibilities can be challenging. At Assisting Hands Home Care, we understand the unique needs of seniors and offer a comprehensive range of services designed to enhance their quality of life. Our commitment to providing exceptional home care in Naples is reflected in every aspect of our approach. If you require assistance with daily tasks, personal care, or ensuring the safety of an aging loved one, we're here to provide the support you need with help from caregivers who embody love, dignity, compassion, and respect.
Empathy in Action: A Personal Journey to Home Care in Naples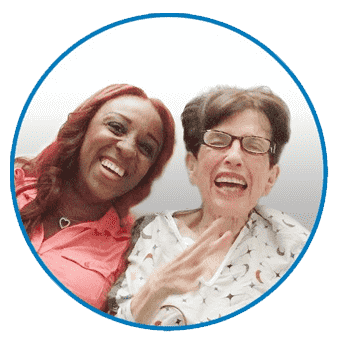 Our owner, Eric Brown, shares a heartfelt narrative that led him to Assisting Hands Naples:

The most common question I hear these days from people who know me as well as from new friends and associates is "Why did you choose the home care industry?" The answer is a relatively simple one: my mother. My mom needed home care in her final years. As a result, I have a personal appreciation of how clients feel when they contact us. I understand how difficult it can be to face the reality that a loved one needs some help to do things they have done routinely on their own their entire lives (and in fact may have actually taught us as young children to do ourselves).

It was a long and frustrating search to find home care professionals with the right combination of qualifications, empathy, and availability to meet my mom's needs. I ultimately found Opal and "Mrs. D," as my mom called her, who made a dramatic difference in her remaining years. All during that difficult search to find those two loving caregivers, I repeatedly thought that there had to be a better way.

After my mom passed, I decided to put that thought into action and acquired Assisting Hands Naples. AH Naples, a private and locally owned agency (essential for quality care) already had a stellar reputation in the community for providing the type of trustworthy home care it took me months to find for my mother. I wanted to combine my own home care experience with Mom with my business experience, particularly in managing a large and disparate workforce, to try to give back in a small way. My goal is to help make life just a bit easier for families and their loved ones during a time in their lives that I know to be stressful. You can rest assured that we are here to provide you the high quality of home care that you need for wherever your loved one might be along life's path.
– Eric Brown – Owner
Elderly Home Care Naples Families Can Trust to Meet Their Unique Needs
At the heart of our process lies a deep understanding of our clients—their needs, interests, and the activities that bring them joy. Our compassionate Care Management team collaborates closely with families to create truly individualized plans that provide in-home care Naples families can rely on to be tailored specifically to the unique needs of their loved ones. Furthermore, we believe in the importance of flexibility, providing the freedom to adapt and adjust the care plan as your loved one's needs evolve over time.
The Perfect Caregiver Match for Outstanding Home Care Naples Seniors Deserve
At Assisting Hands Home Care, we firmly believe that delivering the finest level of Naples in-home care hinges on finding the perfect caregiver match. Our rigorous selection process goes beyond experience and training—we hold the conviction that caregivers who truly make a difference in the lives of our clients are those who possess compassionate hearts. When we handpick a caregiver, we ask ourselves a fundamental question: "Are we confident in the caregiver's ability to care for our own parents?" If the answer is a resounding yes, our clients can rest easy knowing their loved ones are in the most capable hands. Once we've carefully selected your caregiver, he or she will be fully equipped for:
Assisting with personal hygiene tasks such as bathing, grooming, dressing, and incontinence care
Preparing meals and helping with grocery shopping
Performing light housekeeping duties, including laundry and changing bed sheets and linens
Providing transportation for errands, medical appointments, and social outings
Assisting with mobility, bed transfers, wheelchair transfers, and toileting
Providing medication reminders and picking up prescriptions
Ensuring safety and fall prevention measures are in place
Providing cognitive stimulation and emotional support
Offering companionship and fostering social interactions
Providing specialized care for individuals with Alzheimer's
Offering personalized care for those with Parkinson's
The Assisting Hands Home Care Difference
We go beyond the basics of home care by offering premium concierge care to each and every client.
Client satisfaction is our top priority. Therefore, we don't require any long-term contracts. We only want you to keep us if we're meeting and exceeding your expectations.
Because we understand the value of personal connections and consistency of care, we assign the same caregiver/s to our elderly clients.
Each client is quality matched with a caregiver based on experience, skill set, and personality.
Experience alone isn't enough to work for Assisting Hands Home Care. Naples seniors and their families can have the peace of mind that comes from knowing our caregivers must demonstrate traits of compassion, reliability, friendliness, respect, and a commitment to helping elderly people.
How to Get Started with Senior Home Care Naples Families Can Rely On
When they're searching for the ideal partner to provide high-quality senior home care, Naples families may find the process daunting. Our utmost commitment lies in ensuring a seamless transition for you. Selecting the perfect caregiver for your beloved family member is a significant decision. When they reach out to us for in-home care, Naples families can rest assured we'll listen with a compassionate ear, striving to comprehend their every need, address their concerns, and offer tailored solutions that grant them and their senior loved ones the tranquility they deserve. We eagerly anticipate the opportunity to connect with you and discover further details about your specific requirements.
Dear Assisting Hands, Never have I written a letter such as this. Not because I am in any way opposed to giving high praise when due, but simply because I have never had a reason to do so. Quite simply, you and your entire organization are truly amazing. Both my Dad and I feel particularly blessed to have your aide, Marlene, assisting Mom. Marlene is without a doubt an absolute angel. She is a wonderful reflection of your fine organization.
Mr. Mitch Y. from Tampa, concerning his mother in Naples

As you well know – Sue's care needs are complicated, demanding, and labor-intensive and my experience is that overseeing them is also. I can honestly say you, Amber and the caregivers you assigned to work with Sue have never let us down in your dedication and efforts. You and Amber are there whenever we needed to communicate and quick to analyze the situation and remedy any issues to our satisfaction (AND great relief!). If- at any time – you should want to use me as a reference, please do so. We thank you for all you do to help Sue and us through this very difficult time.
Mrs. Pat R. from Chicago, regarding her sister in Naples

How nice it was of you to remember my birthday! I was very happy to see you. The flowers were so pretty and lasted an amazingly long time. Jennifer continues to be an angel sent from heaven. I feel truly blessed after getting the confidence to make that phone call and speaking to Amber. Thank you again…
Ms. Marge G., Assisting Hands Client, Naples

Serving The Greater Naples Area